Cotton is discussed at the WTO on two tracks:
the trade reforms needed to address subsidies and high trade barriers for cotton, and
the assistance provided to the cotton sector in developing countries.
The trade aspects of cotton are handled by the Committee on Agriculture in Special Session including through dedicated discussionson trade in cotton. The development assistance aspects of cotton are discussed in the meetings of the "Director-General'sConsultative Framework Mechanism on Cotton".
These various tracks of discussion have been developed over the years as a response to a series of proposals to address thesector tabled by four African countries — Benin, Burkina Faso, Chad and Mali — known as the Cotton Four or C4.
Click here to access the WTO cotton webpage to learn about background information on the scope and mandate of the WTO workon cotton and access official WTO documents on cotton-related work.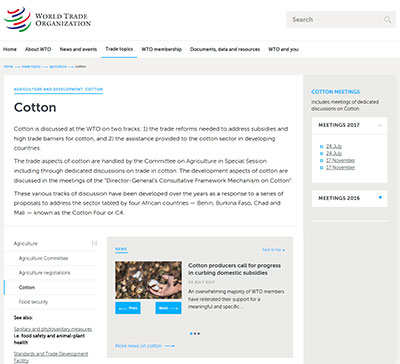 The Secretariat background paper includes factual information and data available from Members' notifications and other official submissions to the WTO on market access (including non-tariff measures affecting cotton trade), domestic support and export competition in relation to cotton. The document is used to inform discussions on WTO Members' cotton trade policies that took place biannually at the WTO.
Click here to access the paper and its amendment.
Discussions on the development assistance aspects of cotton take place twice a year in a forum known as the "Director General's Consultative Framework Mechanism on Cotton". The main purpose of these discussions is to track developments and exchange information on development assistance provided to developing countries. This is recorded through the so-called "Evolving Table on Cotton". Click here to access the paper.
WTO DIRECTOR-GENERAL'S EVOLVING TABLE ON COTTON DEVELOPMENT ASSISTANCE
Development Community
Programmes/Projects/Activities
Value
Operational Status
Disbursement Status
Beneficiaries
Australia
Business Partnerships Platform: ethical cotton production in Kenya
USD 238,193
IP 2016-18
Kenya
Australia
Business Partnerships Platform: improving access to global cotton markets for farmers in Pakistan
USD 380,500
IP 2016-18
Pakistan
European Commission
Support to cotton recovery plan (Flex 2008)
EUR 8,655,487
IP 2010-17
EUR 5 549 311
Côte d'Ivoire
European Commission
Intercoton – Speed up in the law application regarding the rural property sector in the cotton pool
EUR 925,500
IP 2016-18
EUR 857 250
Côte d'Ivoire
European Commission
Consolidation of the Action Framework for the EU-Africa Partnership on Cotton
EUR 11,000,000
IP 2012-18
EUR 10 189 070
All African producers
France
Support to integrated management of agricultural resources (ASGIRAP) – C2D with a specific component for the enhancement of productivity in the cotton sector
EUR 10,000,000
IP 2013-17
EUR 2,937,822
Cameroon
France
C2D support to the cotton sector (road maintenance, animal traction agriculture, advice to producers, strengthening the cooperatives and supporting the interprofession)
EUR 16,930,000
IP 2013-17
EUR 16,930,000
Côte d'Ivoire
France
Study to relaunch the cotton sector
EUR 190,000
IP
Guinea
France
Improvement of productivity and sustainability of farms in cotton areas. Reinforcement of governance of cotton sector within the framework of the institutional reform: strengthening the capacities of the cooperatives and their unions; supporting the interprofessional dialogue; and supporting the development of a concerted policy in cotton areas
EUR 11,000,000
IP 2008-17
EUR 8,603,136
Mali
France
Study to facilitate the implementation of price fixing
EUR 11,700
IP
Zambia
France
Fair trade and organic cotton in West Africa
EUR 3,000,000
PFS
EUR 3,000,000
West African countries
Germany
Sustainable Agricultural Value Chains and Standards/ Cotton House Africa<
EUR 9,500,000
IP 2017-2021
EUR 1,000,000
Western; Central and Eastern African Countries
Germany
Promotion of Innovations in Cotton Production and Cotton Value Chains
EUR 14,000,000
PFS 2018-2022
EUR 10,000
African and Asian Countries
Germany
Global Cotton Project
EUR 17,000,000
PFS 2019-2022
-
Burkina Faso, Cameroon, Indian, Uzbekistan
(Conducted by FiBL)
Research project on approaches for a smart mix
EUR 4,000,000
IP
2017-2019
EUR 4,000,000
Northern African, Asian countries
Netherlands
Initiative Sustainable Trade (IDH): Cotton Value Chain Development
EUR 16,500,000
PFS 2016-20
Brazil, China, India, Mali, Pakistan, Tajikistan, Turkey
Sweden
Conservation Cotton TechnoServe Programme: Support to farmers in Northern Uganda to become efficient producers of cotton and staple food crops (in cooperation with jeans manufacturer Edun)
EUR 256,213
IP 2014-15
Uganda
Switzerland
Initiative Sustainable Trade (IDH): Cotton Value Chain Development
USD 780,000
IP 2016-20
-
Africa, Central Asia, China
Switzerland
Value Chain Development of Organic and Fairtrade Cotton
USD 6,900,000
IP 2013-17
USD 4,600,000
Burkina Faso, Mali, Kyrgyz Republic
Switzerland
Better Cotton Initiative (BCI): The Delta Project "Bridging the Gap in Measuring Real-Time Sustainability Performance"
USD 1,103,835
IP 2018-21
-
Global
US
C4 Cotton Partnership Programme (C4CP)
USD 14,800,000
IP 2014-18
USD 5,910,000
C4
US
West Africa Technical Assistance Scholarship Program for Cotton
USD 150,000
IP 2014-19
USD 15,483
C4 and Senegal
Brazil
Market outlets for cotton by-products and cotton companion crops in Africa
USD 7,345,862
IP 2017-21
USD 489,341
Cotton-producing countries in Africa
Brazil
Programme for the development of the cotton sector in Africa (Benin, Burkina Faso, Chad, Mali, Togo, Mozambique, Malawi, Kenia, Tanzania)
USD 23,840,863
IP 2012-2022
USD 12,728,786
Cotton-producing countries in Africa (15 countries)
Brazil (with FAO)
Strengthening of the cotton sector through South-South Co-operation
USD 14,400,000
IP 2012-18
USD 7,876,078
Argentina, Bolivia, Colombia, Ecuador, Paraguay, Peru,Haiti
Brazil
South-South cooperation for the promotion of decent work in cotton-producing countries in Africa and Latin America
USD 6.864.706
IP 2015-19
USD 2,285,014
Mali, Mozambique, Paraguay, Peru, Tanzania
India
Cotton Technical Assistance Programme
USD 2,848,809
IP 2011-2018
FD
Benin, Burkina Faso, Chad, Malawi, Nigeria, Uganda
FAO
Competitiveness and sustainable strengthening of the cotton sector through the reinforcement of cotton farmers' capacities in the Integrated Production and Pest Management*
USD 3,315,650
IP 2012-16
USD 3,000,000
Burkina Faso, Mali, Senegal, Tanzania, Zambia
ITC
Supporting Indian Trade and Investment for Africa
USD 2,000,000
IP 2015-20
Ethiopia, Kenya, Tanzania, Uganda
UNCTAD
Project on cotton by-products in Eastern and Southern Africa. COMESA Regional Cotton to Clothing Strategy
USD 591,000
IP 2016-19
USD 336,628
Tanzania, Uganda, Zambia, Zimbabwe
Benin

Chercheur, Directeur Général de l'Institut National des Recherches Agricoles (INRAB)

Route de Maria Gléta, Godomey, Cotonou

République du Bénin

M. Ygué Patrice ADEGBOLA

Tel.: (+229) 97 35 40 56

Email: patrice.adegbola@yahoo.fr

Burkina Faso

Secrétaire permanent du suivi de la filière coton libéralisée

Ministère de l'industrie, du Commerce et de l'Artisanat

B.P. 6453, Ouagadougou 01

Burkina Faso

M. Wilfrid YAMEOGO

Tel.: +226 25 40 77 55, +226 70 20 32 16

Email: yamwilfried@yahoo.fr

Burundi

Conseiller

Ministère du Commerce, de l'industrie, des postes et du tourisme

B.P. 492

Bujumbura

M. Patrick NKURUNZIZA

Tel. +257 79 900 957; +257 22 226 317

e-mail: nkupat@yahoo.fr

Cameroon

Sous-Directeur des échanges commerciaux

Ministère du Commerce

Yaoundé

Cameroun

M. OLINGA Narcisse Ghislain

Tel.: +237 697 20 10 50

Email: olinganarcisse@yahoo.fr

Central African Republic

Coordonateur de la Cellule de gestion des stratégies sectorielle et des projets

Ministère du Commerce, de l'industrie, de l'artisanat et des petites et moyennes entreprises

B.P. 1988

Bangui

M. Edmond MOLOGODO

Tel.: +236 2161 1055

Fax: +236 2161 7656

e-mail: infos@minco-rca.org

Chad

Directrice Adjointe, Direction du Commerce Extérieur

Ministère de l'Économie, du Commerce et du Développement Touristique

B.P. 424, N'Djaména

Tchad

Ms Achta AHMAT BREME

Tél. +235 66 094748; +235 66 241850; +235 77 241850

Fax: +235 252 53 64

Email: bachta32@yahoo.ca

Côte d'Ivoire

Directeur des organisations et de la commercialisation des produits de base

Ministère du Commerce

Abidjan

M. Edmond Vénance KODJO

Tel.: +225 08526968; +225 06498246

e-mail: venancekodjo@yahoo.fr

Democratic Republic of Congo

Conseillère en charge des accords commerciaux et de l'intégration commerciale

Ministère de l'Économie et Commerce

Mrs. Youyou BAENDE BOFOTA

Tel.: +243 995 024 658

e-mail: youyou_baende@yahoo.com

Mali

Économie et Finances

Ministère de l'Économie et des Finances

BP 234, Bamako

République du Mali

Mme Doucouré Dougoubarka Sylla

Tel: + 22 3222 5858, +22 3678 2391

Fax: +22 3222 1914

Email: mmedouc@yahoo.fr

Mozambique

Director of the Mozambique National Institute of Cotton

Ministry of Agriculture

Praça dos Heróis Moçambicanos

Maputo

Mozambique

Mr. Norberto Mapéezuane MAHALAMBE

Tel.: +258 21 431015/6

Fax: +258 21 430679

e-mail: nmahalambe@iam.gov.mz

South Africa

Department of Agriculture

International Trade Directorate

Private Bag X791, Pretoria 0001

South Africa

Mr. Günter Müller

Tel: +27 12 319 8015

Fax: +27 12 319 8001

Email: guntermu@nda.agric.za

Sudan

Director of World Trade Accession Unit (WACU)

Ministry of Agriculture and Forest

Khartoum

Sudan

Mrs. Widad Adelrhman

Tel.: +249 8379 3425

Mobile: +249 9171 72098

Fax: +249 8378 2027

e-mail: cottonsudan@gmail.com

Swaziland

Swaziland Cotton Board

Ministry of Agriculture and Cooperatives

P.O. Box 220

Manzini

Swaziland

Mr. Tom Jele

Tel.: +268 505 2775

Fax: +268 505 2775

Email: dlaminiaa@gov.sz

Uganda

Assistant Commissioner for Internal Trade Department

Ministry of Trade, Industry and Cooperatives

Kampala, Uganda

Ms Elizabeth Tamale

Tel. +256 762 995 883

e-mail: Elizabeth.tamale@gmail.com

Zambia

Ministry of Agriculture and Cooperatives

Lusaka

Zambia

The Permanent Secretary

Tel.: +260 211 253 933

Fax: +260 211 250 305

Email: pcd@maff.gov.zm

Zimbabwe

Department of International Trade

Ministry of Industry and International Trade

P. Bag 7708, Causeway, Harare

Zimbabwe

Mrs. Beatrice Mutetwa

Tel: + 26 3479 3461

Fax: +26 3472 3765

Email: bmutetwa@indandcom.co.zw
Ag-IMS provides access to documents and records relevant under the WTO Agreement on Agriculture.
The system allows users to search and analyse (i) agriculture-related information notified by the Members and (ii) questions raised and responses provided in the context of the Review Process carried out by the Committee on Agriculture.
Click here to search agriculture notifications to the WTO.
Click here to search and analyze notified agriculture information at the WTO.
Click here to search and analyze relevant discussions held at the WTO Committee on Agriculture.